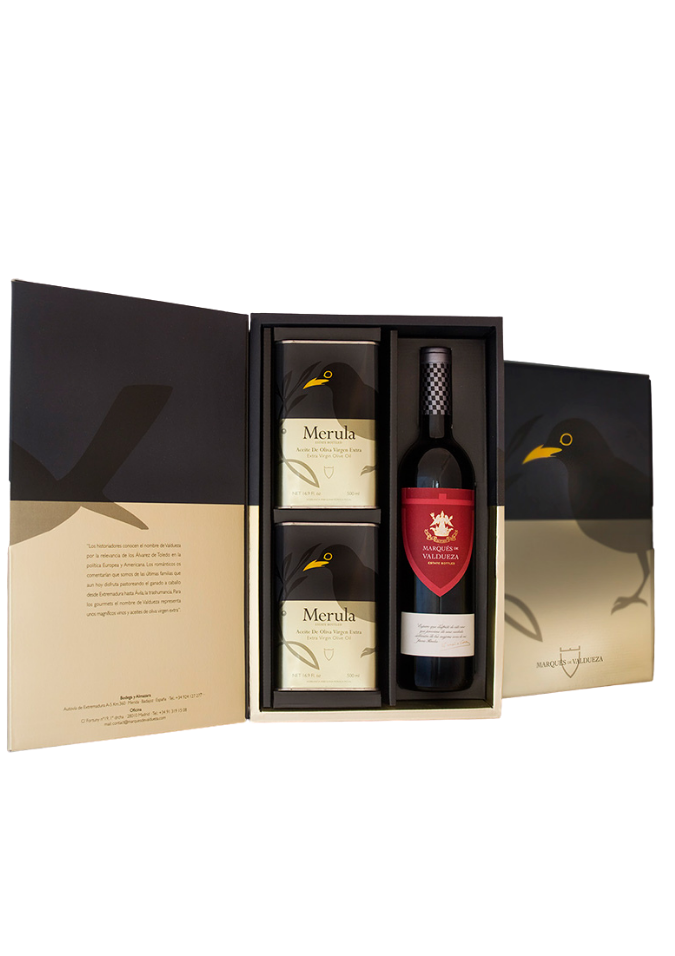 Bird gift box with two cans extra virgin olive oil Merula 500 ml + bottle of red wine Marqués de Valdueza red label 500ml
31 July, 2020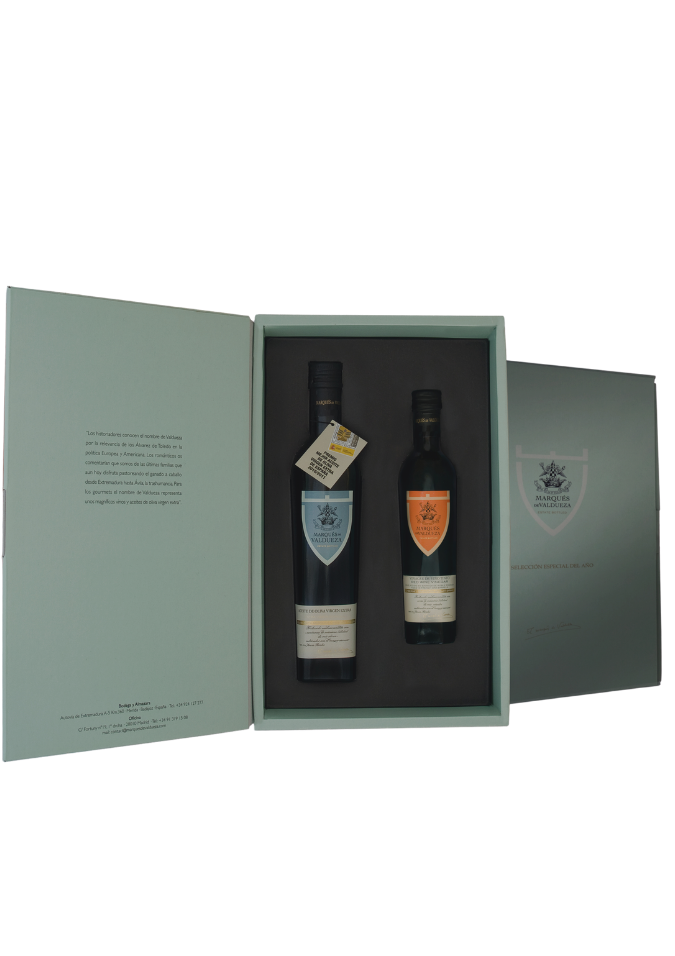 Green shield gift box with one bottle of Extra virgin olive oil Marqués de Valdueza 500 ml and one bottle of Marqués de Valdueza Red Wine Vinegar 250 ml
31 July, 2020
Bird gift box with two cans of Merula extra virgin olive oil 500 ml + bottle of red wine Valdueza "El Pájaro" 500ml
30,00€
Description
Gift Box The Bird Marqués de Valdueza
2 cans of Merula extra virgin olive oil 500 ml + bottle of red wine Valdueza "El Pájaro" 500ml
The Bird
He is the little brother of the family. A wine that we have imagined for all times. An easy red that can be enjoyed today and for the next two years.
Merlot (67%) and Syrah (11%) give it fruit and softness. Cabernet-Sauvignon (22%) provides freshness and liveliness. 53% of the wine is aged for 12 months in a stainless steel tank, which allows it to conserve its fruit and energy. The rest of the wine is aged for 12 months in French oak barrels (new, 1 or 2 years old) to achieve a velvety touch.
It is the ideal wine to accompany everyday food.
Melura Oil
Oil of dominant fruit notes that alternate with a fruity olive of medium intensity, at its optimum point of maturation.
On the nose, light herbal notes coexist with sweet apple, ripe banana and light hints of red fruit.
All these nuances are confirmed in the mouth, alternating with a sublime softness, leaving in our memory an almond sensation that will persist over time. True reflection of the aromatic harmony of the 4 single varietals that make up the bouquet of this product.
Only logged in customers who have purchased this product may leave a review.