Green book gift box bottle of red wine Marqués de Valdueza Gran Vino de Guarda 750 ml + extra virgin olive oil Marqués de Valdueza 500 ml
30 July, 2020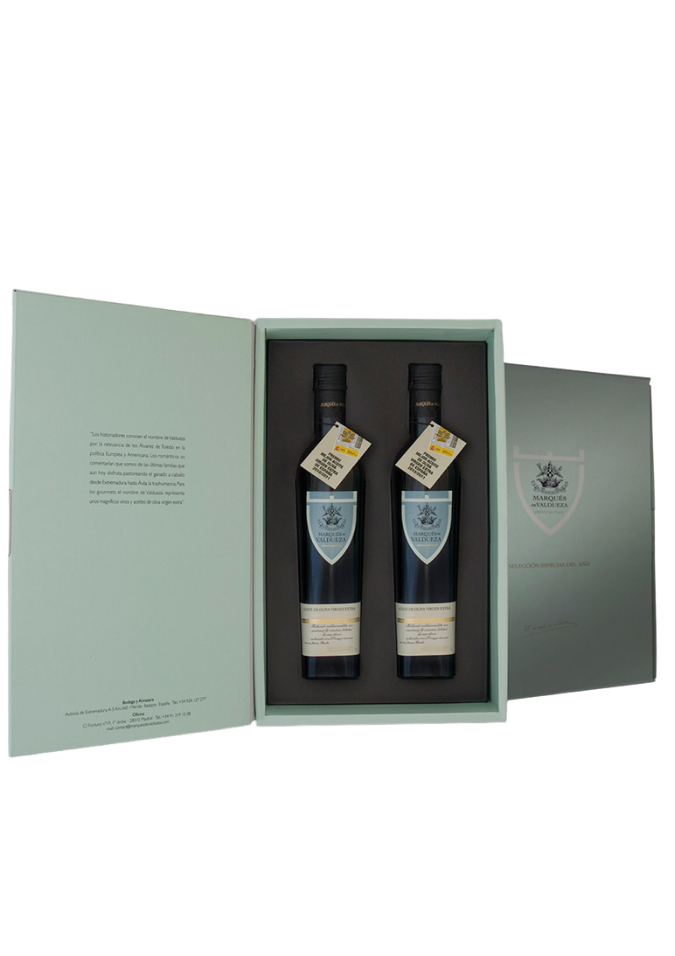 Green book gift box with two bottles of extra virgin olive oil Marqués de Valdueza 500 ml
31 July, 2020
Pack 3 bottles of 500 ml of extra virgin olive oil Marqués de Valdueza and 3 bottles of extra virgin olive oil Merula 500 ml
67,50€
Description
Extra Olive Oil from the Marquis of Valdueza
3 bottles 500ml EVOO Marqués de Valdueza + 3 bottles 500ml of Merula oil
Taste the selection of extra olive oils from the Marqués de Valdueza awarded in the conventional production category. The tradition when it comes to making the product is our value and excellence.
Extra Virgin Olive Oil
Spring-scented oil with outstanding herbaceous green notes that presents a green fruity olive of medium-high intensity.
Complex nose with hints of green almond, broom, light tones of green tomato and a deep fragrance of wild plants that culminates with light fruit notes.
With a deep personality in the mouth, it is soft at first and then surprises with a light bitterness that leads to a slightly more intense spice, generating a wonderful balance. Herbaceous records predominate with wood tones, turning towards almond and green banana.
Intangible fusion of aromas / flavors provided by the 4 great varieties that lend their profiles to the creation of this product.
Melura Oil
Oil of dominant fruit notes that alternate with a fruity olive of medium intensity, at its optimum point of maturation.
On the nose, light herbal notes coexist with sweet apple, ripe banana and light hints of red fruit.
All these nuances are confirmed in the mouth, alternating with a sublime softness, leaving in our memory an almond sensation that will persist over time. True reflection of the aromatic harmony of the 4 single varietals that make up the bouquet of this product.
Only logged in customers who have purchased this product may leave a review.