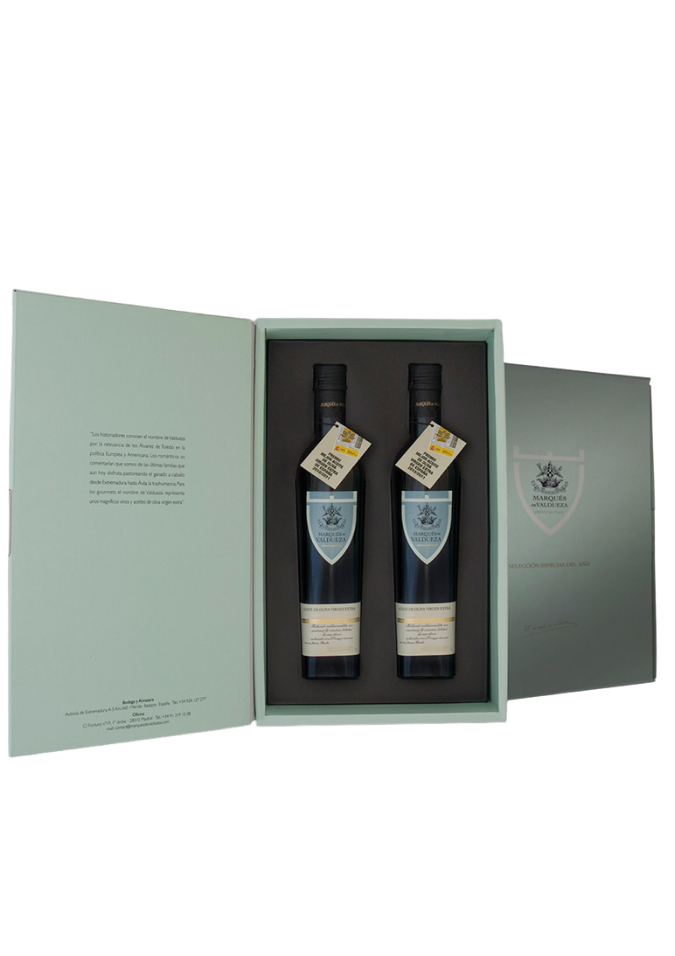 Green book gift box with two bottles of extra virgin olive oil Marqués de Valdueza 500 ml
31 July, 2020
145/5000 Gift box book the bird with a bottle of red wine Valdueza "El Pájaro" 750 ml and another of extra virgin olive oil Merula 500 ml
31 July, 2020
Green book gift box with a bottle of red wine Marqués de Valdueza Red Label 750 ml + another of extra virgin olive oil Marqués de Valdueza 500 ml
33,50€
Description
Marqués de Valdueza Gift Box
1 bottle of Red Label wine + 1 500ml bottle of Valdueza extra olive oil
Red Label
It is a more serious wine, where we have managed to combine the freshness and elegance of Cabernet-Sauvignon (62% and without any aggressiveness in the mouth), with the sweetness of Syrah (38%).
Aged for 12 months in French oak barrels (with a predominance of new barrels) allows us to deliver a wine that can be enjoyed today and for the next 4 years.
Ideal to accompany more elaborate meals.
Extra Virgin Olive Oil
Spring-scented oil with outstanding herbaceous green notes that presents a green fruity olive of medium-high intensity.
Complex nose with hints of green almond, broom, light tones of green tomato and a deep fragrance of wild plants that culminates with light fruit notes.
With a deep personality in the mouth, it is soft at first and then surprises with a light bitterness that leads to a slightly more intense spice, generating a wonderful balance. Herbaceous records predominate with wood tones, turning towards almond and green banana.
Intangible fusion of aromas / flavors provided by the 4 great varieties that lend their profiles to the creation of this product.
Only logged in customers who have purchased this product may leave a review.